Ristorante Peppone - Rome, Italy -
4+ Golden Spoons
What a gorgeous little restaurant tucked just off the Via Veneto in Rome on a small side street, Via Emilia. We were welcomed by a very well dressed handsome mature gentlemen who looked like a Vanity Fair model. Crisp striped shirt, nicely tailored slacks, smartly polished shoes, striking silver long hair perfectly coiffed. He took us to a lovely table next to two a dramatic tall French door type open window. The room inside had tall cream ceilings with gorgeous crown moldings and trim.
​
A spectacular fire engine red prosciutto carving machine/station held court in the center of the immaculately spotless room. Quite impressive. The menu was pages long and offered an impressive array of classic roman style dishes. We chose the warm octopus salad and eggplant Parmesan as starters accompanied by a local Pinot Grigio. The salad was beautifully plated.
A bright colorful mix of sautéed octopus slices, cherry tomatoes, cubes of cooked potatoes, and chopped parsley dressed with olive oil and lemon. Perfectly seasoned, each bite was refreshingly tart, bringing out the subtle flavor of the octopus that had a slightly creamy texture.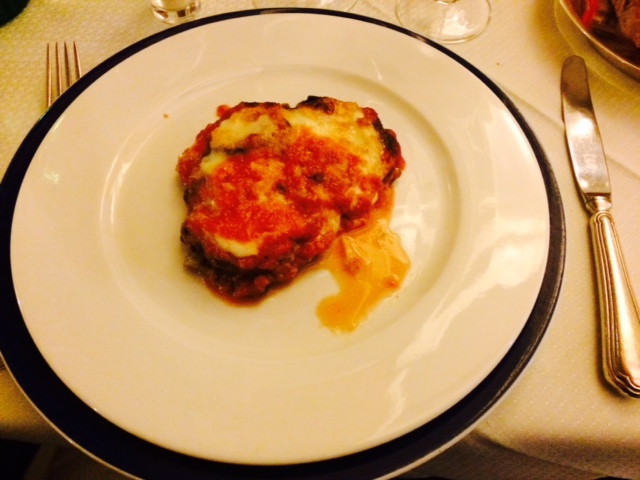 Lovely. The eggplant Parmesan was what you would expect, except that the sauce was light and not at all cloying so that the taste of the fresh tomato base and eggplant shone thru. Delicious. For our main course we ordered a home made pasta with freshly sliced bianco tartufi (white truffles). What decadence.
The pasta was al dente and tossed in truffle olive oil before being covered in shaved truffles. When it arrived at the table, the fragrance was indescribable. Earthy, sweet, and sensuous. It teased of the taste to come which was beyond expectations. We savored every moment of this dish which made me smile with the delight of each bite.
We used the home made bread brought to us to soak up every truffle morsel in the tiny pool of infused oil at the bottom of the bowl. The tartar was presented in slices that were thicker than a typical dish, but so tender that they broke apart with a soft touch of a fork and knife. They sat under a cover of fresh arugula and Parmesan shavings and the dish was dressed in lemon, olive oil, and sea salt. Perfection. We finished our meal with a classic panna cotta and home made tiramisu. Both were superb.
And I forgot to mention the service. Fantastic. I believe it was family run. Several dashing gentlemen and beautifully dressed women took care of us and all seemed to even take a part in finishing each dish in the kitchen before it was presented at the table. Spectacular.